You are here:  

Home

»

Events
Events
23 November 2016 European Parliament Intergroup on Long-Term Investment
Wednesday 23. November 2016 the European Parliament Intergroup on Long-Term Investment and Reindustrialisation met in Strasbourg. Under the chair of the Member of the European Parliament (MEP) Dominique Riquet (FR) and Vice-President of the European Parliament Adina-Ioana Vălean, EFSI was discussed for 1 ½ hours. The panel was composed of:
Laurent Zylberberg, ELTI president, CDC
Christian Krämer, KfW
Riccardo Honorati Bianchi, CDP
Sibil Svilan, SID
Yves Guicquero, Agence Française de Développement AFD
Mikolaj Dowgielewicz, EIB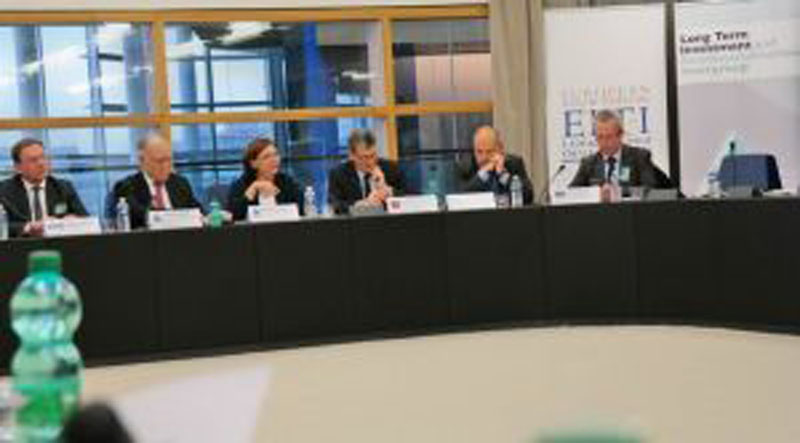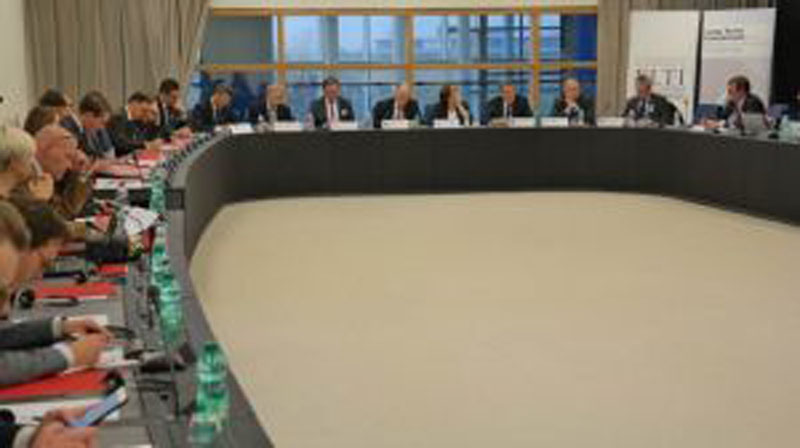 Ca. 50 persons of which 9 were MEPs – one of them being EFSI co-rapporteur José-Manuel Fernandes, and many assistants to MEPs (including to the European Parliament's President Martin Schultz) attended the meeting. Based on the three ELTI position papers (EFSI, Art. 38 CPR, and EIP, please see final versions of EFSI and Art. 38 CPR attached), which were distributed to the participants the main points of the discussion were:
EFSI:
• NPBIs took a major role in the implementation of the EFSI notably in the SME window and the success of the Juncker-plan happened. EIB underlined the fact that EFSI was a great opportunity to strengthen the cooperation between EIB and NPBIs.
• NPBIs and EIB continue to have different views on subordination. EIB continued to underline that the question of subordination has to be decided (by the EIB) on a case-by-case basis.
• There are great expectations about the European Investment Advisory Hub notably by MEPs from Eastern Europe (Romania, Bulgaria, Slovenia). In order to improve geographical distribution additional focus should be given by the EIB to the smaller countries in terms of know-how, technical expertise, share of best practices etc (technical assistance 2.0).
• The added-value of the EFSI from NPBIs- and MEPs-view is mainly the additional risk taking capacity of EFSI and in some EU Member States the availability of additional liquidity. MEPs expressed their concerns about additionality.
• Most of the participants asked for a stronger involvement of NPBIs in the implementation of the EFSI.
ART. 38 CPR – EFSI&ESI Funds:
• Investment platforms will be a key element to combine EFSI with other EU funding resources notably ESIF (-> Structural Funds).
• NPBIs - that have a significant financial and project engineering expertise, strong financing capacity and knowledge of their respective territories - could and should in the future play a greater role in ESI Funds deployment also to enhance the synergies between EFSI and ESI Funds as well as to avoid crowding-out effect.
• The new proposed Art. 38 CPR that foreseen direct award of implementation tasks related to Financial Instruments from Managing Authorities (MAs) to NPBIs with equivalent conditions currently granted to EIB Group and other IFIs, currently do not seem to be aligned with the definition of NPBIs used in the EFSI Regulation and consequently some NPBIs could be excluded.
• ELTI suggested to apply the definition of NPBIs as in article 2 (3) of EFSI Regulation (EU) 2015/1017. Any amendment of art. 38 CPR should be fully consistent with EFSI Regulation in order to ensure protection of legitimate expectations and legal certainty.
• The final objective is to have all NPBIs be able to implement Financial Instruments, combining ESIF and EFSI, avoiding any potential impediment coming from new proposed art. 38 CPR and at the same time allowing them maximum level playing field.
• In this regard cooperation between the EIB and NPBIs in designing and providing solutions that address EU investment needs, market gaps and enhance EU competitiveness is therefore of utmost importance.
EIP:
• The External Investment Plan (EIP) which might become an "EFSI for Africa" and the involvement of bilateral development banks (KfW, CDP, AFD, …) was discussed and highlighted the fact that NPBIs have strong financing capacities and expertise, even outside Europe.
It was extremely useful that we could distribute the three position papers and all important points in the documents were explained and understood by the participants. Thank you very much once more for the discussion about the documents, your points are now understood by relevant and interested MEPs.
It was also extremely useful that Mr. Svilan represented a small ELTI member from a smaller, Eastern European Member State. Many questions concerned problems in the smaller Member States. His participation was definitively a great success and we should present ELTI positions in the future always in a team including at least one small member representative.
13 October 2016 Tokyo, Japan: 3rd OECD Green Investment Financing Forum (GIFF)
The OECD Green Investment Financing Forum (GIFF) is an annual event aimed at promoting dialogue and enhancing understanding between a wide range of countries and institutions interested in mobilising private investment financing for low carbon and climate-resilient infrastructure. Speakers include high-level representatives from governments of OECD countries and emerging economies, developing countries, Green Investment Banks (GIBs), institutional investors and the private sector, international organisations and NGOs. Forum subject to Chatham House Rules. http://www.oecd.org/environment/cc/oecd-green-investment-financing-forum.htm
06 October 2016 CDP Workshop The Investment Plan for Europe and How to Decline It Outside Europe: The perspective from National Promotional Institutions (NPIs)
Invitation from the Office of the Executive Director to attend the Cassa Depositi e Prestiti Workshop in Washington on 'The Investment Plan for Europe and How to Decline It Outside Europe: The perspective from National Promotional Institutions (NPIs)' (PDF)
DATE: Thursday, October 6, 2016
TIME: 3:00PM – 4:30PM
VENUE: J 1-050 (701 18th Street NW, Washington, DC 20006) The World Bank J Building, lobby level room 050
Chaired by Patrizio Pagano, Executive Director, EDS 21, World Bank Group and with Opening Remarks by Fabio Gallia, Chief Executive Officer, Cassa Depositi e Prestiti Spa
Kindly register with Mrs. Maria C. Lardner This email address is being protected from spambots. You need JavaScript enabled to view it. (a WBG badge will be requested for this event)
27 May 2016 Beijing D20 Meeting
D20 meeting for 2016 organised jointly by LTIC and China Development Bank (CDB)
Statement of Heads of G20 Financial Institutions with a Development or Public Mandate (D20) Conclusions of D20 Annual Conference 2016 Organized by China Development Bank (PDF)
30 June 2016 Green Infrastructure Investment Coalition
Invitation to the inaugural Green Infrastructure Investment Coalition India Forum on 30 June 2016 at The London Stock Exchange
10 Paternoster Square, London, EC4M 7LS
This is an invitation to join Indian banks, infrastructure financiers and international investors for an exploration of the blue-chip investment opportunities available with Indian green infrastructure (PDF)
Priority will be given to asset owners, fund managers and infrastructure investors.
Registration for limited places: www.giicoalition.org/india-registration
Green Bonds & Capital Markets
Green Infrastructure Investment Coalition (PDF)
Investors + Green Infra Developers + Public Sector + Development Banks
01 July 2016 High-level Conference: Communicating investment at EU, national, regional and local level
A one-day event for networking, sharing communication best practices and discussing about communication challenges related to investment in EU countries. Case studies from Bulgaria, Extremadura, Flanders and Vienna as well as a moderated brainstorming session with conference participants are included in the programme.
When: 01 July 2016
Where: European Committee of the Regions, rue Belliard 99-101, 1000 Brussels
Registration before 27 June 2016 (no last minute check-ins due to security protocol):
15th June 2016 The European Long-Term Investment Conference Investment: Taking it up to the next level
This conference will gather high-level guest speakers such as:
Jyrki KATAINEN, Vice-President, Jobs, Growth, Investment and Competitiveness, European Commission
Sandro GOZI, Secretary of State of Italy
The conference will be organised around three round tables:
1. European and global instability: What macroeconomic policy does Europe need?
2. Over to the financial and industrial actors: investment valuation and risk reduction
3. Lessons learned from the Juncker Plan and the prospects for its development
The debates will be simultaneously translated into English and French.
Conference programme (PDF)
Please register with Christine Gauffreteau This email address is being protected from spambots. You need JavaScript enabled to view it. 0033 1 43 17 32 83.
Brussels location: to be confirmed
28 October 2016 Madrid General Assembly
The 4th annual ELTI General Assembly took place in Madrid, Spain, courtesy of the Instituto de Crédito Oficial (ICO)
25 May 2016 Paris annual TAFTIE conference
TAFTIE annual conference taking place in Paris on 25 May from 1:30 to 4 pm whithin the Bpifrance "Inno Generation" event.
This year dedicated to "Supporting all forms of innovation: towards sustainable innovation", which means funding solutions and support services to new forms of innovation such as process, organizational, marketing innovation related to the sustainable economy.
TAFTIE is the European Association of leading national innovation agencies gathering 28 members from the EU and beyond (Israel, Switzerland,Turkey, Norway, etc.) that make a major contribution to strengthening Europe's competitiveness by supporting product, process and service innovation, implementing their countries' national and international RDI Programs.
The annual conference will gather about 200 participants coming from various horizons: innovation agencies; policymakers, entrepreneurs, national promotional banks etc. It will take place within 'Bpifrance Inno Generation', a unique 24-hour event (25-26 May) in Paris dedicated to Innovation gathering + 15,000 companies that will take part in plenary lectures, thematic seminars, entrepreneurs pitching sessions and innovation showrooms.
Registration:https://docs.google.com/forms/d/1guziwY1anMqIXz3wggTg-zZnPSgCOqRuxUnog-fLcSI/viewform
Opportunity to participate in :
-TAFTIE annual conference - 25 May pm (included the travel sheet and recommended hotels)
-The international Networking cocktail dinner that will bring together TAFTIE members but also the network of European Financial Institutions for SMEs (NEFI) as well as EU officials - 25 May evening
-Bpifrance 'Inno Generation thematic workshops - 25 and 26 May'
Contact
European Long-Term Investors a.i.s.b.l.
Rue Montoyer 51
B - 1000 Brussels
Belgium
secretariat@eltia.eu