ELTI Members
Bank of Valletta (BOV)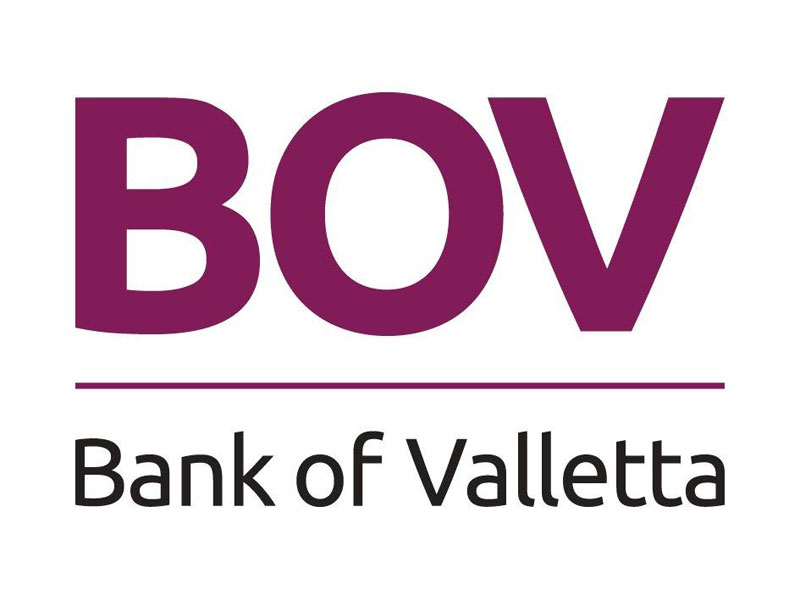 Bank of Valletta p.l.c. (BOV) was established in 1974. The Bank's shareholders are the General Public with a 65 % shareholding, followed by the Government of Malta with 25% and UniCredit Group with a 10% shareholding. BOV is the largest financial institution operating in the Maltese Islands making it a systemically important Bank and falls under the direct supervision of the European Central Bank (ECB).
The Bank of Valletta Group comprises Bank of Valletta p.l.c. (the Bank), BOV Fund Services and BOV Asset Management. BOV Group also has an associated company, MAPFRE Middlesea Insurance p.l.c., and a jointly controlled entity, MSV Life p.l.c. The financial products and services offered by BOV Group are designed around customers' individual needs, both personal and business. These include deposit- taking in Euro and other major currencies, personal and business short-to-medium and long-term financing, foreign exchange services, payment services, cards and self-service banking services, wealth management, investment banking, stock broking, trade finance, bancassurance, asset management and fund services.
Over the years, BOV has developed a retail multi-channel banking network that focuses around the individual customer's banking needs according to a relationship banking model. The Bank services its customers through its 24X7 online platform and a a network of 36 branches, 5 agencies, 5 business centres and 6 investment centres across the Maltese islands. The Bank has developed a worldwide network of correspondent banks and has a network of representative offices in Belgium, Italy, Libya and the United Kingdom.
Customer Service Centre
Tel: +356 2131 2020
Attard - Triq ir-Rand
2, Triq ir-Rand,
Attard, ATD 1301
Malta


Birkirkara - Naxxar Road
295, Triq in-Naxxar,
Birkirkara, BKR 9041
Malta

Birzebbuga - Pretty Bay
11, Il-Bajja s-Sabiha,
Birzebbuga, BBG 1758
Malta


Bormla - Gavino Gulia Square
Misrah Gavino Gulia,
Bugibba - Triq Il-Halel
Triq Il-Halel,
Bugibba,San Pawl il-Bahar, SPB 2529
Malta


Fgura - Hompesch Road
57, Triq Hompesch,
Fleur - De - Lys‎ - Fleur de Lys Road
411, Triq Fleur-de-Lys‎,
Birkirkara, BKR 9061
Malta


Floriana - St Anne Street
62, Triq Sant' Anna,
Il-Furjana, FRN 9011
Malta
Rabat (Gozo)
102, Triq ir-Reppublika,
Rabat, Ghawdex, VCT 1017
Malta
Gudja - MIA Skyparks - Luqa
Level 1, SkyParks Business Centre, Malta International Airport,
Gzira - Triq l-Imsida
219-220, Triq ix-Xatt,
Gzira
Malta
Hamrun - St Joseph High Road
225/226, Triq il-Kbira San Guzepp,
Il-Hamrun, HMR 1013
Malta

Ibragg - Swieqi
Triq tal-Ibrag,
Is-Swieqi, SWQ 2030
Malta


Imqabba - Triq il-Madonna tal-Gilju
63, Triq il-Madonna tal-Gilju,
L-Mqabba, MQB 1305
Malta

Imsida - Triq Marina
212/215, Triq ix-Xatt,
Tal-Pieta', PTA 9041
Malta


Luqa - Dun Pawl Street
Triq Dun Pawl,
Marsaskala - Triq San Gwakkin
23, Pjazza Dun Tarċis Agius,
Marsaskala, MSK 1160
Malta


Marsaxlokk - Triq Iz-Zejtun
4/5 Pjazza Madonna ta' Pompei,
Marsaxlokk, MXK 9027
Malta


Mellieha - Triq Gorg Borg Olivier
34, Triq Gorg Borg Olivier,
Il-Mellieha, MLH 1025
Malta


Mosta - Triq Il-Kostituzzjoni
49, Triq il-Kostituzzjoni,
Nadur (Gozo)
29, Pjazza San Pietru u San Pawl,
In-Nadur, Ghawdex, NDR 1010
Malta


Naxxar - Triq Tal-Labour
Triq tal--Labour,
Paola - Guze D'Amato Street
Triq Guze' D'Amato,
Qormi - St. Bartholomeo Street
Triq San Bartolomew,
Hal-Qormi, QRM 2186
Malta


Rabat - Is-Saqqajja
20, Is-Saqqajja,
San Gwann - Triq In-Naxxar
184, Triq in-Naxxar,
San Gwann, SGN 9030
Malta


Sannat (Gozo)
Pjazza Santa Margerita,
Ta' Sannat, Ghawdex, SNT 9032
Malta


Santa Venera - Triq Fleur - De - Lys
229, Triq Fleur-de-Lys,
Birkirkara, BKR 9069,
Malta


Siggiewi - St.James Street
2, Triq San Gakbu,
Is-Siggiewi , SGW 1609
Malta


Sliema
12, Triq ix-Xatt ta' Qui-Si-Sana
Sliema - Triq Manwel Dimech
Triq Manwel Dimech,
Balluta,Tas-Sliema, SLM 1051
Malta


St Paul's Bay
85, Triq San Pawl,
San Pawl il-Bahar, SPB 3417
Malta


St.Julians - Dragonara Road
Triq id-Dragunara,
Paceville, San Giljan, STJ 3141
Malta


Valletta - Republic Street
45, Triq ir-Repubblika,
Il-Belt Valletta, VLT 1113
Malta
Xaghra (Gozo)
Pjazza Vittorja,
Ix-Xaghra, Ghawdex, XRA 1012
Malta


Xewkija (Gozo)
Triq il-Knisja,Ix-Xewkija,
Zabbar - Sanctuary Street
63, Triq is-Santwarju,
Haz-Zabbar, ZBR 1010
Malta
Zebbug - St. Philip's Square
10, Misrah San Filippu,
Haz-Zebbug, ZBG 1011
Malta
Zejtun
1, Misraħ ir-Repubblika,
Iz-Żejtun, ŻTN 1012
Malta
Zurrieq - St.Bartholomew Street
11, Triq San Bartilmew,
Iz-Zurrieq, ZRQ 1810
Malta
Brussels Liaison Office