Events
Workshop on Data Collection for Long-term Investment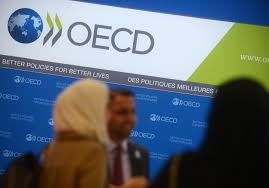 Developing Benchmarks and Data Collection for Infrastructure Investment – an Agenda for the G20
As part of the next G20/OECD Task Force on Institutional Investors and Long-term Financing the OECD will be holding a Workshop on Data Collection for Long-term Investment on Thursday 2nd November 2017, from 9.30am to 1pm at the OECD Conference Centre in Paris.
The discussion will build on relevant work including proposals for a potential research agenda made in the OECD note: "Breaking Silos: Actions to Develop Infrastructure as an Asset Class and Address the Information Gap". It will also follow-up on the "Infrastructure Data Initiative" jointly presented by the EIB, LTIC, GIH and OECD during the last G20/OECD Taskforce meeting in May the 10th 2017.
Participants will be invited to discuss the various areas covered by the Infrastructure Data Initiative. Workshop topics will include:
Update on the Data Collection Initiative and G20 Context;
Developing Financial Performance Benchmark for Infrastructure;
Economic and financial viability of Infrastructure projects – impact assessment;
ESG Performance Benchmarks.