Events
Ljubljana, Slovenia: Regional conference on the Investment Plan for Europe -Investing in Transport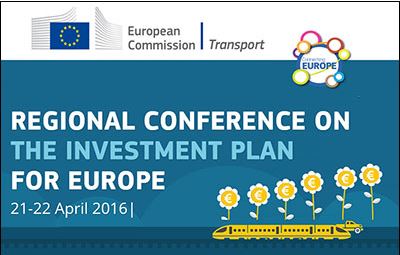 Registration
This email address is being protected from spambots. You need JavaScript enabled to view it.
European Commissioner for Transport, Ms Violeta Bulc, is inviting high level representatives involved in the planning and financing of transport infrastructure at both national and EU level, as well as numerous project promoters and stakeholders from the financial sector in Central and South East Europe, to a Regional Conference on the Investment Plan for Europe - Investing in Transport in Ljubljana on 21 and 22 April 2016.
The Investment Plan for Europe provides powerful tools for facilitating the mobilization of public and private financing for infrastructure projects. In order to further raise awareness and to promote the financing opportunities available for the transport sector under the Plan, the European Commission is organizing this Regional Conference which will also pave the way to the forthcoming Investors' conference, the first to be organized within the framework of the TEN-T Days, in Rotterdam, in June 2016.
The event on the 21 April will focus on the cooperation between the Union and the Western Balkans focusing on the challenges and opportunities for transport project financing.
The second day of the Conference on 22 April will be dedicated to presenting the European Investment Fund, the technical assistance tools such as the European Advisory Hub and present successful of examples of project finance.
The Member States, the procuring authorities and project promoters will have an opportunity to discuss their key projects with the representatives of the banks and the financial institutions during the bilateral meetings on 22 April.
On 22 April, interpretation will be provided from English to Slovenia.