Events
The EU Investment in Space after 2020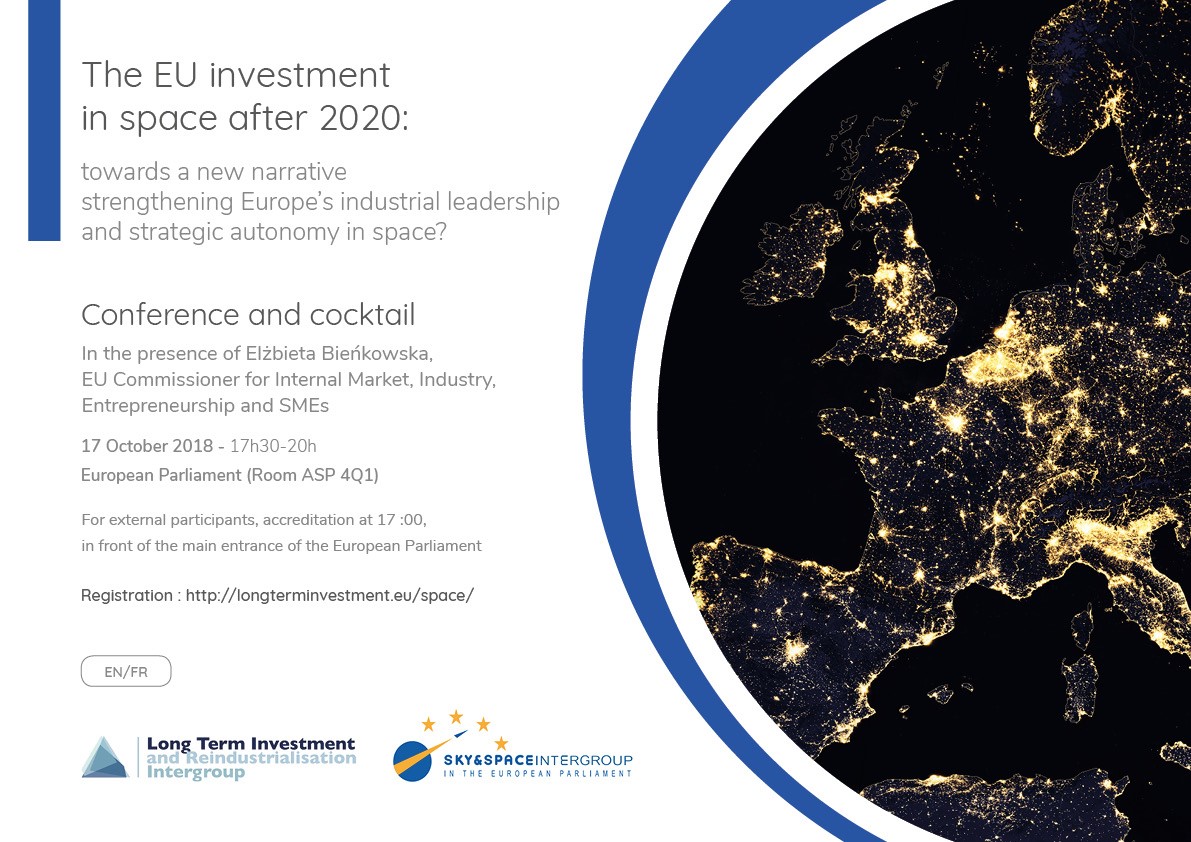 The EU Investment in Space After 2020
Towards a New Narrative
Strengthening Europe's Industrial Leadership and Strategic Autonomy in Space?
Wednesday 17 October
17.30-20.00
Venue: Room ASP 4Q1
European Parliament
Accreditation for External Participants at 17:00 (Meeting point at ASP Entrance)
Background
Space is a cutting-edge sector at the crossroads of civilian and strategic interests and is requiring in this respect a prospective vision and long-term investments. At a time where international market positions of the European space sector are increasingly challenged by the emergence of new players, investing in state-of-the-art space infrastructures and services is becoming ever more important to support European economy, competitiveness and the autonomy of our continent in space.
Against this background, the Space Strategy for Europe put forward ambitious proposal to boost Europe's industrial leadership. Two years after its adoption, the 2021-2027 Multiannual Financial Framework (MFF) and the European Commission's proposal for a regulation "establishing the Space Programme of the Union and the European Agency for the Space Programme" offer now a unique opportunity to turn these ambitions into concrete proposals and actions.
The preparation of the next MFF is taking place while the EU has to address new challenges, with an ever more limited budget. In this respect, stimulating innovative investment and new forms of partnerships with the private sector are key measures supporting the modernisation and efficiency of the EU budget, and maximizing its impact. By bringing together stakeholders from the EU institutions as well as from the finance and space private sectors, this conference aims first of all at fostering the public debate about the main priorities areas for the EU space policy after 2020 – this provides indeed an important momentum to boost investment in space in support of EU leadership and strategic autonomy. In the meantime, this collective discussion and interaction with the audience also targets to enrich the ongoing institutional reflections on the implementation (and related challenges/ opportunities) of innovative access to finance mechanisms for the space sector at EU level – with the underpinning purpose to increase and leverage the total pool of financing for the European space sector.
---
Welcome Message

Dominique Riquet
---
Guest Keynote Speakers

Elzbieta Bienkowska
---
Panel Discussion

Lowri Evans

Luigi Pasquali
Vice President of Eurospace and CEO of Telespazio

Shiva Dustdar

Gael Serandour

Jeroen Rotteveel
CEO of ISIS and Chair of SpaceNed
---

Moderator

Jean-Jacques Tortora
---
Q&A Session with the Audience
---
Conclusive Remarks

Monika Hohlmeier
MEP and Chair of the Sky & Space Intergroup
---
Cocktail Reception (19.30)