Events
Singapore G20 Investment and Infrastructure Working Group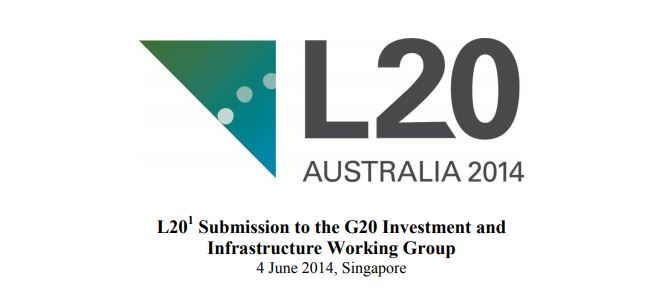 1. L20 welcomes the opportunity to share views with the G20 Investment and Infrastructure Working Group on 4 June 2014 in Singapore. With over USD80tr in assets under management, institutional investors – including pension funds, insurance companies, endowments and sovereign wealth funds – have a key role to play in meeting future infrastructure challenges within the G20 economies and beyond. Currently, only around 1% of their portfolio is invested in infrastructurerelated assets and of this, most is equity investment in advanced economies by a few leading institutions in a few countries (notably Australia and Canada). Relatively little of this is in 'greenfield' investments. At the same time, much of the banking sector has reduced lending capacity and public finances managed by governments are under strain.
2. Given the importance of infrastructure in providing for a modern, efficient and productive economy that can deliver an adequate and sustainable standard of living for all citizens, built around good jobs, decent wages and social protection, it is imperative that governments continue to explore ways to facilitate institutional investor long term investment strategies, including infrastructure.
3. The G20 has a leadership role in mobilising investors for infrastructure. At the St Petersburg Summit in November 2013, the G20 endorsed High Level Principles on Long-term Investment by Institutional Investors. It is time for these G20 Principles to be effectively implemented. The G20 should help institutional investors deliver patient, productive and engaged capital in a responsible way, while at the same time shifting away from short-termist and speculative trading behaviour.
There are a number of pre-conditions for this to happen:
Making infrastructure financing work for job creation and decent work;
Ensuring rule of law for all, not just for foreign investors;
Ensuring proper government planning and infrastructure markets;
Addressing regulatory and market barriers to infrastructure finance;
Ensuring fair and transparent risk sharing arrangement between public and private parties;
Promoting leadership by collectively organised retirement plans;
Mainstreaming responsible business conduct; and
Ensuring accountability and transparency of asset managers and bankers.