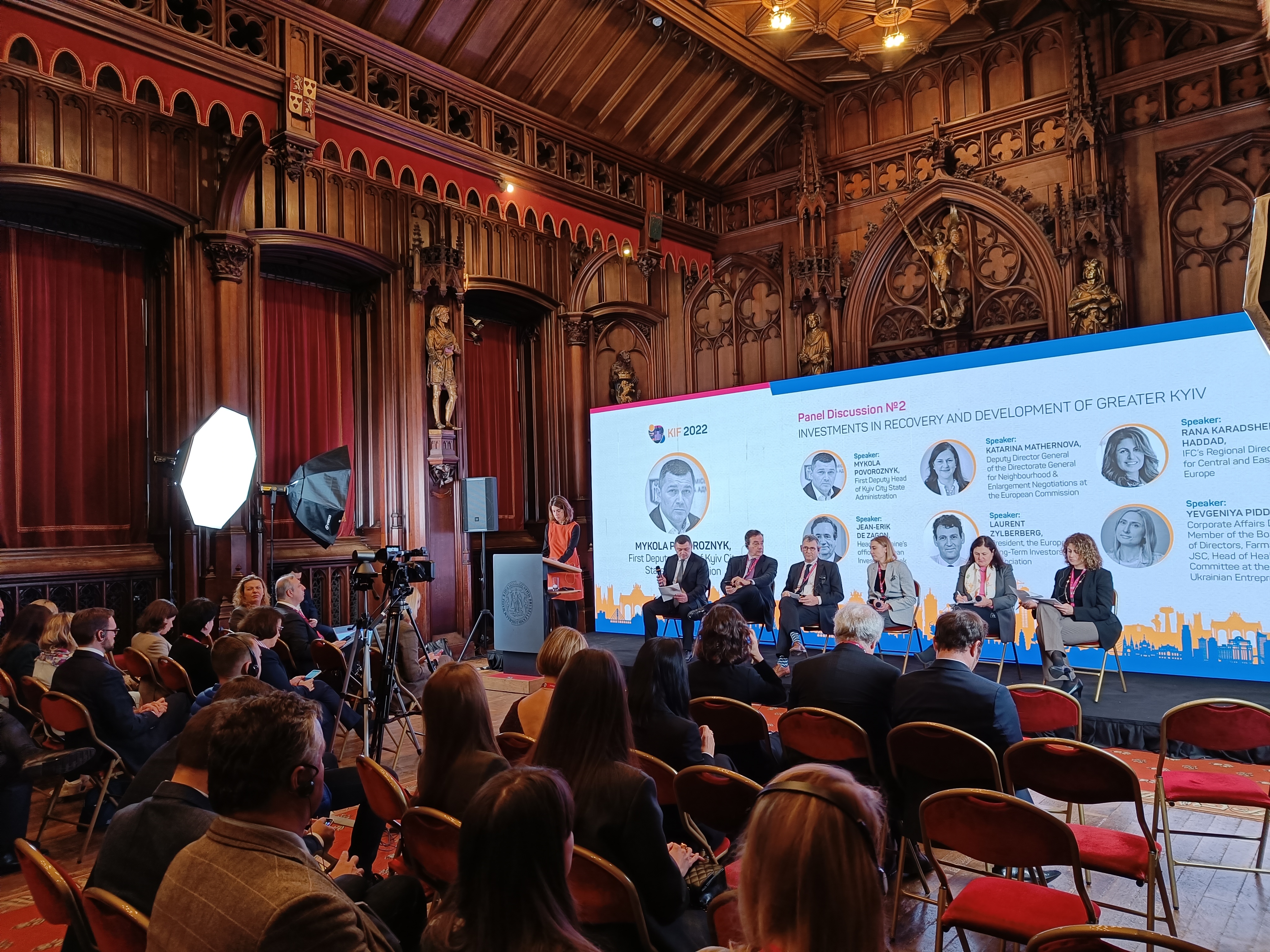 The Kyiv Investment Forum took place on 28 November 2022 in Brussels. ELTI Chairman Laurent Zylberberg was amongst the panelists during the afternoon session on 'Investments in Recovery and the Development of Greater Kyiv', alongside Mykola Povoroznyk (First Deputy Head of Kyiv City State Administration), Jean-Erik de Zagon (Head of Ukraine Office at the European Investment Bank), Yevgeniya Piddubna (Corporate Affairs Director and Board of Directors Member of Farmak JSC and Head of Healthcare Committee at the Union of Ukrainian Entrepreneurs) as well as Katarina Mathernova (Deputy Director General of the DG for Neighbourhood and Enlargement of Negotiations at the European Commission), and moderated by Politico Europe reporter Paola Tamma.
The fruitful day-long event included panel discussions from Kyiv Mayor Vitaliy Klychko, his brother Volodymyr Klychko, Brussels Mayor Philippe Close, European Commissioner for Justice Didier Reynders, Poznan Mayor Jacek Jaskowiak, Helsinki Mayor Juhana Vartiainen, Paris Mayor Anne Hidalgo, and representatives of cities of many other European capitals spoke at the forum.
The Kyiv delegation presented several specific infrastructure projects made in the Ukrainian capital in order to help its post-war recovery and restoration.
Amongst the most notable highlights of this event was Volodymyr Klychko's emotional speech which called on the participants to continue their support for Ukraine's daunting battle against the Russian invading forces. Mayor of Brussels, Philippe Close, followe up by backing a multitude of projects including most notably to provide psychological assistance to Ukrainian sexual victims in the hands of Russian soldiers.
To conclude, the mayor of Brussels called on city halls, governments, and companies to take part in helping Kyivans, and all of Ukraine, regardless of the size of the companies or organisations. As such, all of the Mayors and representatives of city authorities present at the Kyiv Investment Forum signed a memorandum (and similar documents) to show their utmost support for Ukraine during the war and its aftermath.
Further details can be found on: http://investinkyiv.info