News
Sustainable Investment Forum Europe 2020 - Postponed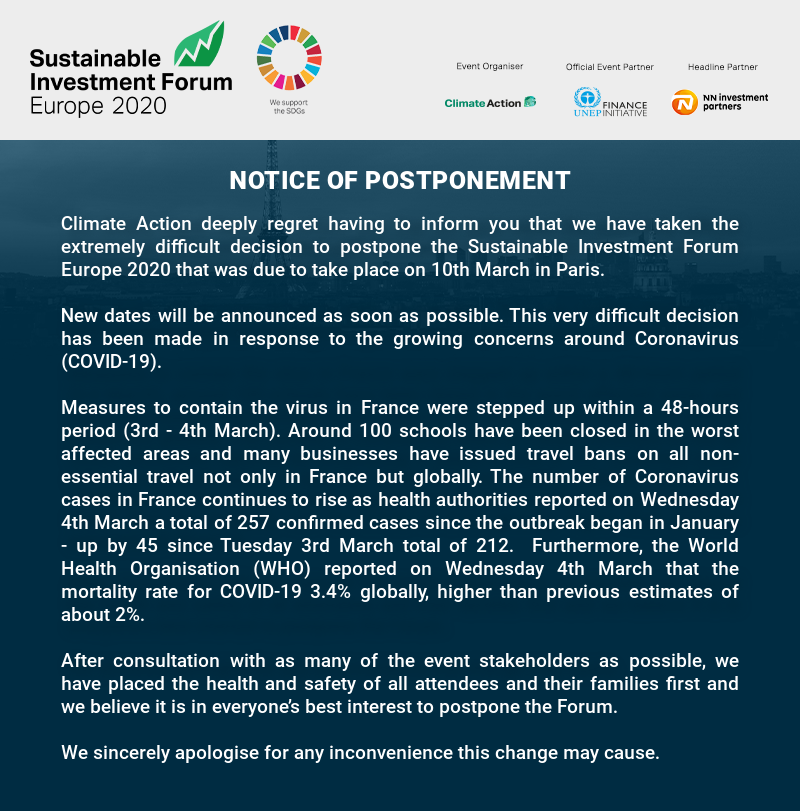 An important update from Climate Action regarding the Sustainable Investment Forum Europe 2020.
We deeply regret having to inform you that we have taken the extremely difficult decision to postpone the Sustainable Investment Forum Europe 2020 that was due to take place on 10th March in Paris.
New dates will be announced as soon as possible. This very difficult decision has been made in response to the growing concerns around Coronavirus (COVID-19).
Measures to contain the virus in France were stepped up within a 48-hours period (3-4 March), around 100 schools have been closed in the worst affected areas and many businesses have issued travel bans on all non-essential travel not only in France but globally. The number of Coronavirus cases in France continues to rise as health authorities reported on Wednesday 4 March a total of 257 confirmed cases since the outbreak began in January - up by 45 since Tuesday 3 March total of 212. Furthermore, the World Health Organisation (WHO) reported on Wednesday 4 March that the mortality rate for COVID-19 3.4% globally, higher than previous estimates of about 2%.
After consultation with as many of the event stakeholders as possible, we placed the health and safety of all attendees and their families first and we believe it is in everyone's best interest to postpone the Forum.
We sincerely apologise for any inconvenience this change may cause.
Please do not hesitate to contact our team should you have questions
Please visit http://eu.sinvforum.org for more information.
---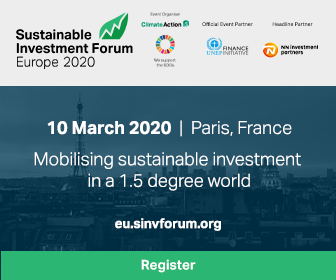 ELTI has partnered up with Climate Action to support the Sustainable Investment Forum Europe 2020, organised in partnership with UNEP-FI.
We are delighted to say we have a limited number of Complimentary VIP Passes for asset owners/institutional investors to attend the event on the 10 March 2020 in Paris.
Be inspired, engage and learn from featured speakers:
• Nathalie Aufauvre, Director General of Financial Stability and Operations, Banque de France
• Olivier Rousseau, Executive Director, Fonds de Réserve pour les Retraites
• Magnus Billing, CEO, Alecta
• Johanna Raynal, Director of ESG & Impact, SwedFund
• Adrie Heinsbroek, Principal Responsible Investment, NN Investment Partners
• Sina Hbous, Advisor to the Chairman & Head of Sustainable Development, The Financial Regulatory Authority
View all featured speakers here.
The above industry leaders, and many more, will be joining 400 sustainable finance experts at the third annual Sustainable Investment Forum Europe 2020 in Paris on 10 March 2020 to debate best strategies for sustainable finance in Europe. Join the Forum to engage with them and learn about the most recent developments in the industry.
How to Register:
We are delighted to offer complimentary VIP passes to attend the forum if you are an asset owner/ institutional investor. Your application is subject to a review process by the organiser and you will be informed whether you have been successfully registered as a VIP Guest. You can apply online today.
If you do not qualify as a VIP, we are happy to say you can still attend the forum with a 25% discount. Use the code ELTI25 at the checkout to take advantage of this special offer. Register online today.