High-Level Task-Force on Investing in Social Infrastructure in Europe
- Report Launch Event -
The European Association of Long-Term Investors (ELTI) and the European Commission cordially invite you to attend the launch event of the report:
"Boosting investment in social infrastructure in Europe"
of the High-Level Task-Force on investing in social infrastructure
Tuesday 23 January 2018
9:30 – 11:45
European Commission, Charlemagne Building
Rue de la Loi 170, 1040 Brussels
Room Alcide de Gasperi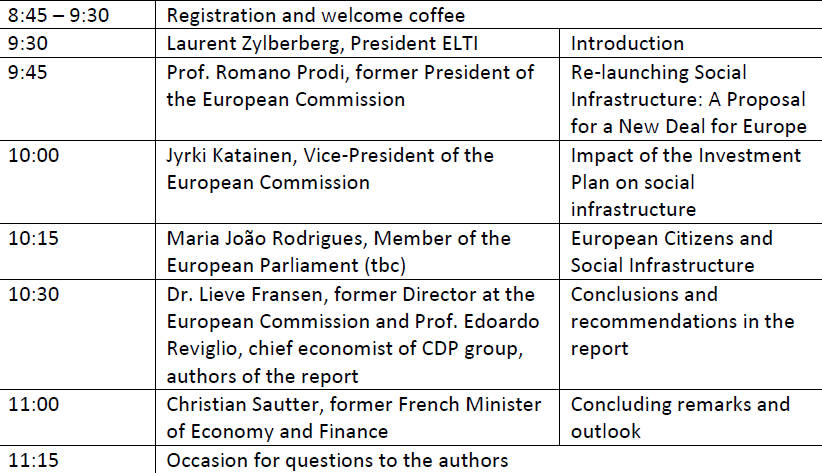 Please confirm your participation preferably by Thursday 18 January 2018 by registering via the following link: https://ec.europa.eu/eusurvey/runner/ECFIN-JAN-2018. The final agenda together with some practical information on how to access the building will be sent out to the participants.
Welcome message
Given the rapid changes our societies are undergoing and the 'short-termist' tendency of many economic and political actors, the need for long-term vision is more important than ever. The implementation of far-reaching global objectives such as building sustainable infrastructure for sustainable investment, fighting climate change or innovating in our resources consumption and in production technologies is not only an absolute necessity: it is also a path, in itself, to recovery from the current crisis on a new basis to avoid its return and ensure the well-being of future generations.