Green Week 2016: Investing for a greener future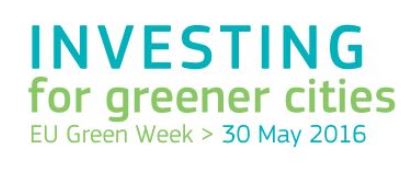 The 2016 edition of Green Week, the biggest annual occasion to debate and discuss European environment policy, will take place from 30 May to 3 June 2016. The theme of this year is "Investing for a greener future".

On Monday we look at how investing for greener cities can improve the quality of urban life. On Tuesday we explore ways of securing our future through investments in the countryside, which provides so many of the resources that our society needs. Wednesday focuses on finding the financing for our needs, and Thursday then looks at investing in our oceans. Friday widens the scope to a more global outlook, namely investing in sustainable development for future generations. Partner Events take place throughout May and June (see Partners Section for more details).
The call for proposals for Partner Events will be launched soon. Here are the background details about what they should focus on and the guidelines, in order that if you intend to organise an event and submit an application for a Partner Event, you can already see what needs to be considered.
The ELTI Deputy Secretary-General, Mr. Helmut von Glasenapp will make a presentation in Brussels during Green Week 2016 on Wednesday 1 June to present the common characteristics of the relevant ELTI activities.